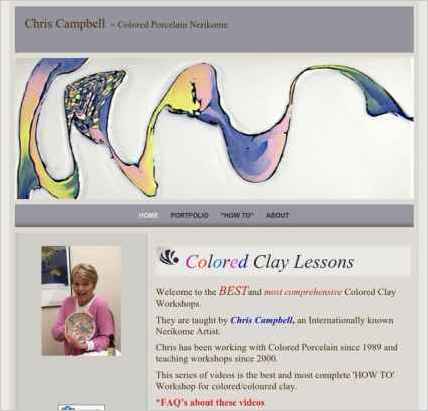 To build "Colored Porcelain Designs by Chris Campbell" for Chris Campbell Pottery, llc, Chris Campbell chose Sandvox. She chose the "Cathedral" design for the site. People may want to visit the site if they are looking for porcelain, color in clay, murrinis, neriage, colored clay, color.
Sandvox features used for this site:Blog, External Page, Photo Grid, Custom Collection Index, Contact Form
Visit Colored Porcelain Designs by Chris Campbell »
--- Describe your website.
In my website I hope to showcase my artwork in colored porcelain, share my days in the studio, encourage others to learn through my workshops and show the history of my work through my bio page. I also discuss some of my projects with recycled glass and clay mixtures. I enjoy the exchange of ideas so I also have a Let's talk area where I will answer questions and offer tips on using colored clay. I also am a source for paper clay and paper porcelain advice.
Who is the target audience for your website?
My site attracts potters, sculptors and those using Mason Stains in their work. Teachers and students in high school, community colleges and university enjoy reading the content of my How To and murrinis page. I often get queries on the use of paper clay and paper porcelain. This covers all age ranges both male and female.
What is the advantage of your website over others?
This is a learning site with a live person available to answer all your questions. I can help people with porcelain questions, paperclay questions, art business advice, art marketing advice, pottery advice on all levels from beginner through to final firing and sales.
Tell us a story about this website.
I had set aside a week to do my site and was amazed to get it all set up and ready to go within a day. I don't know where all the time I saved went, but I love my new site!
Why did you use this Sandvox design?
Out of all the designs, this seemed to suit my style best. It took me a bit of time to decide and it was helpful to be able to see what others did with the template. I realized I would just have to fit some things in differently and it was a simple switch for me.
What techniques did you use to build this website?
I have a page of links to other artists work ... it might not be that unusual but I made the link an image of their work so people could decide to go or not based on the image. I have been told by a friend that it is hard to get back to my page if you go too far into another site ... annoying back clicks ... so she has sent me the html fix which I have not inserted yet.
---
---
www.SandvoxSites.com/702