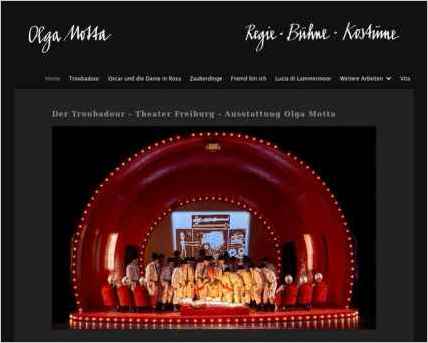 Sandvox was the choice for Thilo Nass to build his website. He chose the "Grafite" design for the site. People may want to visit the site if they are looking for Opera, Art, Costumes.
Sandvox features used for this site:External Page, Photo Grid, Custom Collection Index, Site Map, QuickTime Audio/Video, Other Objects, Editing HTML of text, Raw HTML Object, Google Integration
Visit Olga Motta - Regie, Bühne, Kostüme »
---
Describe your website.
Olga Motta is a german opera director, stage designer and costume designer. She was directing Mozart and Donizetti: Lucio Silla and Lucia di Lammermoor. This is her official homepage with photos, videos and art stuff.
Why did you use this Sandvox design?
I like dark designs becaus I am a photographer. I searched a lot to find one . This was heard.
Most themes are to "noisy"
What techniques did you use to build this website?
I used raw html pages to integrate the monoslidesshow player. A flash player for photos and videos.
---
---
www.SandvoxSites.com/697