 Location: London, UK
What kind of websites were you planning to build?
I wanted to create a website to advertise my business and to attract business enquiries. In particular I wanted to upload to my website on an ongoing basis, photos of my previous work and glowing testimonials from happy clients.
How did you hear about Sandvox?
I read about Sandvox after a MacWorld Expo, or some other Apple event, a long while ago. I remember that the application was very well received, but that at more or less the same time, Apple released iWeb and everyone was saying "Bad luck, again!" to Karelia. For the second time, Apple seemed to be treading on the toes of the small developer. But Sandvox has certainly stood the test of time. Well done guys, for creating a great application.
What made you decide to get Sandvox?
I chose to use Sandvox primarily because the application makes it extremely easy to display my services and organise my photos and testimonials.
Sandvox manages to distil complex design tools into simple menus and check boxes, leaving me free to focus on my content. The direct control I have of my website keeps me in tune with my business and saves me time and money, because I don't have to learn and code HTML and I don't have to pay out to outside web designers.
Now that you have Sandvox, what do you like about it?
My favorite feature of Sandvox is the "Pagelet" function, which I use to add boxes of photos, and contact forms, and a number of other things, to any page, or group of pages on my website. I find this modular approach to make page building very easy to understand and the boxes very easy to arrange visually.
What would be a good way to search for a program like Sandvox?
WYSIWYG web editor or website builder.
---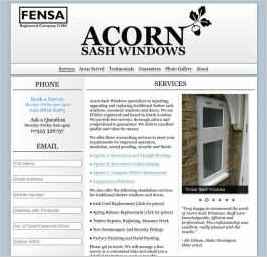 "The purpose of my website is to promote the services, features and benefits of my business, Acorn Sash Windows. We are a small, well-established, FENSA-registered company and carry out all types of work to sash windows throughout North London. This work includes repairs, draught proofing and double..."
repair renovation window north london sash glazing