 Location: Nottingham, UK
What kind of websites were you planning to build?
My plan was to build a simple website to promote my artwork.
How did you hear about Sandvox?
I made a random internet search on website builders for Mac OSX.
What made you decide to get Sandvox?
My internet search on 'web builders for Mac OSX' came up with an article giving a comparative evaluation of three 'best' website builders for Mac OSX, Sandvox being one of the three. This evaluation persuaded me that Sandvox was the most suitable one for me.
Now that you have Sandvox, what do you like about it?
I have very little computer knowledge and I was amazed at how simple it was to use. I had a website up and running in less than a day. I am also delighted with how easy it is to edit and update the content of my website. All in all, I'm delighted.
What would be a good way to search for a program like Sandvox?
---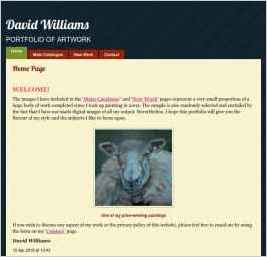 "I was attracted to its simple, unfussy format. Something more elaborate would have detracted from the display of my paintings, which is the main impact I want to make."