 Location: Wisconsin, US
What kind of websites were you planning to build?
This website has a dual purpose: to let friends and family keep up with our family, as well as to showcase some photography and give a place for potential clients to see my photographic work. The business aspect of this is really secondary.
How did you hear about Sandvox?
I had read about Sandvox on several Mac sites over the years, and had been impressed with how the company overcame some of their Apple dealings.
What made you decide to get Sandvox?
I have been a longtime Freeway Pro user. I love Freeway for the control of elements for web design, but that control also means that it's more difficult to frequently update a site. I decided that I didn't want to have a 'stale' site anymore---that I would blog as a way to get news and photos out, and I wanted an easier way to deal with frequently changing content. In addition, my wife has a site that she wanted to maintain herself, and Freeway Pro was too complex for her needs.
Sandvox is terrific---it's easy to learn, it deals with blogging nicely, and it allows beginners to do some very nice work.
Now that you have Sandvox, what do you like about it?
Sandvox has made updating web content a snap. With the Blueball designs (this site uses Cubicle Wide), I can get larger photographs on the page, which is a nice advantage. Any software that lowers the barrier to getting the job done is terrific, and Sandvox falls into this category.
---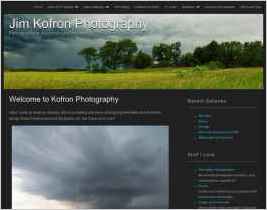 "One thing that I wanted to do with my website is to continue to use my Jalbum based photo galleries in conjunction with the Sandvox main site. I like the additional control that I can get with Jalbum. By using the "List of Links" page, I find that I can very easily do this. I may eventually..."
photography family dog camera kid curly coated retriever