 Location: Bouchet, Drôme, France
What kind of websites were you planning to build?
A photo website to keep friends posted on our life in France.
How did you hear about Sandvox?
I knew about Sandvox through the Apple forum, iWeb thread. I was looking for an application that worked a bit like iWeb.
What made you decide to get Sandvox?
I chose Sandvox after a trial period, because it is like iWeb, it's user friendly, it works just fine and I found the design that suits me. I chose it after trying the other applications as well mentioned in the iWeb thread on the Apple forum. As I was going on during the trial, I noticed that your helpdesk is extremely good, you have a graet team. It almost felt like asking a good friend.
Now that you have Sandvox, what do you like about it?
I like everything about Sandvox. Only too bad that the hit counter can't be adjusted. On my former iWeb site I had a few thousand hits and with Sandvox I had to start all over again.
---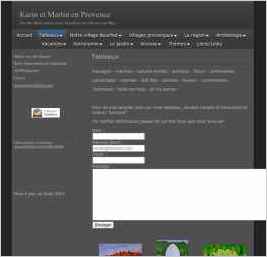 "My website helped me to become the village photographer and gradually people in this region start to use my photos as well for their publications and websites"