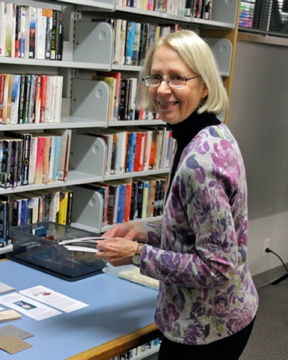 Location: Qualicum Beach, British Columbia, Canada
What kind of websites were you planning to build?
I wanted to build a website that would show my handmade miniature books and give plenty of background information about them. This is partly for the customers who may wish to buy, librarians of the institutions that have bought the books for their special collections and students of Book Arts programmes who may wish to study techniques and design aspects of the books. For all these groups they need to know about the details and see photos that show the books as faithfully as possible.
How did you hear about Sandvox?
I searched for 'website builder Mac', and downloaded a few trials, combed the forums and read all the comparative reviews that I could find. Rapidweaver was not as user friendly and some other programmes would not allow me to develop my site over time, as my expertise improves (I hope).
What made you decide to get Sandvox?
I chose Sandvox because when I trialed it (and watched the great instructional videos) I was able to select a suitable template for my site, and found I could copy and paste the content of my previous site with ease. I can't afford to hire someone to design and edit my site, and also I wanted to control the content and be able to change my mind, delete, amend and add whenever I wanted to. Sandvox lets me do that.
Now that you have Sandvox, what do you like about it?
The people who purchase my books are sensitive to design and layout, typography and general aesthetics. I had to have a website that reflected that, and at the same time I needed something that was easy for me to build and maintain. My main occupation is making books, and I want to keep it that way, not spend a large portion of my time working on the website. Using Sandvox has enabled me to meet these goals, and give my customers a website with a clean clear layout.
I had some problems publishing over the old site as I had renamed many of the pages, and Sandvox Support was very helpful in resolving these issues. I'm glad that I chose Sandvox. Good looks and functionality, who could ask for more?
What would be a good way to search for a program like Sandvox?
---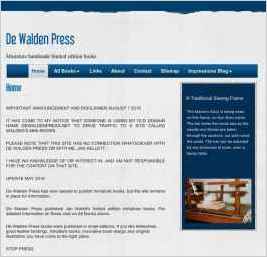 "The Outside the Lines Blue design with the page of white hand made paper complements the content of my site. I like the clean white page, and the beautiful deep blue border, and the typeface used for the headings is slightly quirky but still easily readable. The layout is adaptable and presents the..."