 Location: Eugene, Oregon, USA
What kind of websites were you planning to build?
I am "webmaster" of a non profit human rights site. It was the unofficial site of the Eugene Oregon Human Rights Program, and as such, we put a lot of details of their events and speaker.
How did you hear about Sandvox?
I heard about Sandvox from numerous postings on the Apple iWeb discussion list.
What made you decide to get Sandvox?
I chose Sandvox because it seemed to offer the best combination of relatively low cost, under a hundred bucks, lots of templates, and things like custom banners and hierarchal menus.
---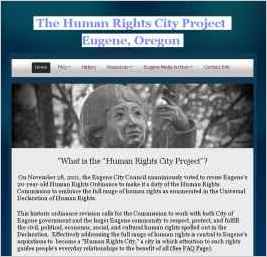 "It was decided that we would use the dark blue template Aurora Palace Blue. It offered what we wanted, including a deep color that hopefully would catch someone's eye and encourage them to stick around and read what we have regarding human rights."