 Location: Sydney, NSW, Australia
What kind of websites were you planning to build?
A wanted to build a website to promote and sell a software tool.
How did you hear about Sandvox?
I found out about Sandvox by searching with Google for website building software.
What made you decide to get Sandvox?
I chose Sandvox for building my website because it had better features and provided a wider variety of design templates than other similar applications.
Now that you have Sandvox, what do you like about it?
Sandvox is easy to use, has a nice interface, has excellent documentation and provides all the features necessary for creating a website. I particularly like the way raw HTML can be included in the automatically generated code.
What would be a good way to search for a program like Sandvox?
I searched for the phrase: software to create websites on Mac OS/X.
---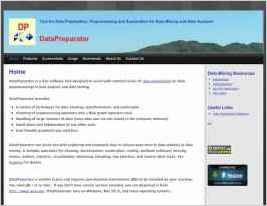 "This website describes a software tool for data preparation for data mining. To learn about DataPreparator: Find out the available functionality in Features. View sample screenshots in Screenshots. See some of the tasks for which DataPreparator can be used in Usage. Download a free demo..."