 Location: Melbourne, Victoria, Australia
What kind of websites were you planning to build?
I had a number of sites to build - my business site, as well as sites for my basketball club and some friends.
How did you hear about Sandvox?
I heard the developers talking on a podcast I listen to and thought it sounded like the product was worth investigating.
What made you decide to get Sandvox?
I chose Sandvox for it's ability to provide rich design templates which can then be customised to give the look that I want. This allows me to produce a great looking site without needing to hire a consultant.
Now that you have Sandvox, what do you like about it?
One of my favourite features is the focus on site marketing, with great tools for preparing the site for Google and other search engines.
What would be a good way to search for a program like Sandvox?
Web site building software for Mac
---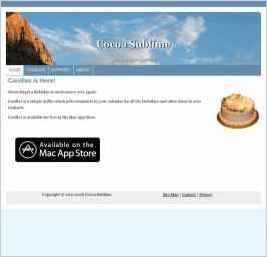 "We are using the 'Earth and Sky Blue' design which we felt gave a professional look, with clear navigation around the site."