 Location: Salt Spring Island, British Columbia, Canada
What kind of websites were you planning to build?
A friend of mine, Michael Robb - a gifted artist, wanted me to put together a website for him. The intention was to put together something simple and elegant, that would showcase his exceptional art. I think we have achieved that goal.
How did you hear about Sandvox?
I don't know when I first heard about Sandvox, but I've been using it for years. In this time I've numerous of my own websites with it, plus I've used Sandvox to create several websites for art groups that I belong to.
What made you decide to get Sandvox?
I find Sandvox just makes my life easy. It has enough features that I can create sites with extensive galleries and pages and subpages. Or I can create very simple sites. I can get my message onto my websites clearly without needing to delve into arcane CSS and HTML code, and yet I can inject HTML code to add functionality.
I also like that there are 3rd party designers that extend the range of templates. I appreciate how affordable the templates are to purchase, and the very simple licensing terms. I like easy.
Now that you have Sandvox, what do you like about it?
I like how it is both easy to use, and yet allows me to include powerful features in my website. I like how much time it saves me. I can create a simple bare-bones website in a couple of hours, if needed. Or I can create a much more sophisticated website, over a longer period. I like how it doesn't get in the way of the message.
---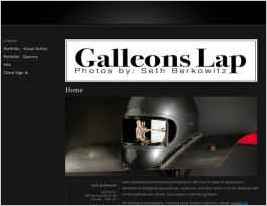 "I like minimalist designs, and I find the selection of these designs to be 1st rate in Sandvox (and their 3rd party designers. I like my websites to get out of the way of the content, and so gravitate to those designs that do that."