 Location: Carol Stream, IL
What kind of websites were you planning to build?
I wanted to build 2 websites: one for my own business as a musician, and one for our string quartet. I needed software that did not require me to learn code, mostly because I don't have the time to do that right now.
How did you hear about Sandvox?
Several results mentioning Sandvox appeared after my Google search. I checked out several reviews.
What made you decide to get Sandvox?
After reading good reviews, and looking at some sample Sandvox sites, I decided that it would be at least a good starting point to get a website up and running quickly.
Now that you have Sandvox, what do you like about it?
It was even easier than I expected to put the website together. Most of the process was intuitive. Most of the Sandvox Help articles were quite helpful. I am happy with how the site looks and presents itself.
What would be a good way to search for a program like Sandvox?
---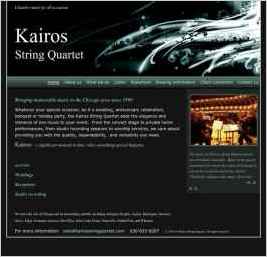 "Night Breeze has an elegance to it that reflects what we do and who we are. Music is moving and flowing, and the Night Breeze design gives a flowing effect. Many of our events are formal occasions, and the dark background with lighter text gives a sense of distinction."