 Location: Graz,Styria, Austria
What kind of websites were you planning to build?
I am a visual artist; I needed a new website for my business.
How did you hear about Sandvox?
internet search with google
What made you decide to get Sandvox?
Sandvox is designed for Mac on Macs
super! A website is a "living" artwork so I want to make corrections, news, and changes on my own.
Now that you have Sandvox, what do you like about it?
Easy going workflow and motivating support.
What would be a good way to search for a program like Sandvox?
---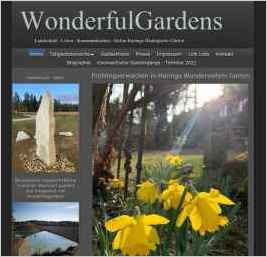 "Meine Tätigkeitsbereiche in Wonderful Gardens umfassen,Energetik,Planung und Gestaltung von Energetischen Gärten. Wir untersuche als ausgebildete Rutengeher (Radiaestheten) die Gärten auf Geomantische Strukturen (geomantic structures)und interpretieren diese Erkenntnisse für die Planung des..."
garden photograph stone energetik pendler gärtner