Location: Amsterdam, The Netherlands
What kind of websites were you planning to build?
My website is meant to reflect the different fields I am working c.q. active in. As I will be retired very soon, I have more time for the things I love and like. So, making a business is not my primary goal, but I would be pleased if some good would come of it. So, my website should please the visitors and maybe put ideas in the heads of some to hire me for culinary workshops.
How did you hear about Sandvox?
I can't remember, but I think it was Version Tracker.
What made you decide to get Sandvox?
I can't remember now, but the description in Version Tracker must've appealed to me. Also, the fact that it was developed for Mac was important to me.
Now that you have Sandvox, what do you like about it?
Sandvox is amazingly simple to use. Its intuitive interface makes setting up a website suprisingly easy. And it's fun!
---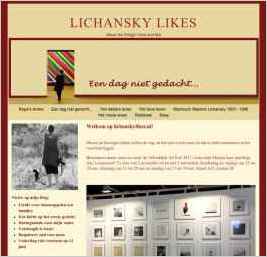 "My website consists of four blogs, the main one being 'Over koken, eten en drinken' (About cooking, food and drink). There the visitor will find good and tasty food in clear recipes - as that is part of my profession as a former TV chef. I want to keep teaching people how to cook really tasty food..."