 Location: Los Angeles, California, USA
What kind of websites were you planning to build?
I started a photo booth rental business and wanted to attract customers.
How did you hear about Sandvox?
I found Sandvox by doing a Google search for Macintosh software that would help me build a web site, but that didn't require a knowledge of HTML or any other code.
What made you decide to get Sandvox?
I chose Sandvox because it seemed like it would let me do most of what I wanted to do in creating a web site without having a knowledge of HTML or other code.
Now that you have Sandvox, what do you like about it?
What I like most about Sandvox is that I can type in words and at the same time see them pretty much as they will appear on a page.
---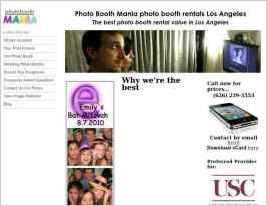 "I like to use lot of white space. I also believe that black type on a white background is easiest to read."