 Location: Berlin, Germany
Language: German.
What kind of websites were you planning to build?
I needed a website for my business as editor for home-videos and trainer for Final Cut Pro
How did you hear about Sandvox?
What made you decide to get Sandvox?
Sandvox is similar to iWeb and very simple to use. The Templates have nice designs.
Now that you have Sandvox, what do you like about it?
You can make a complete website in a few hours.
What would be a good way to search for a program like Sandvox?
---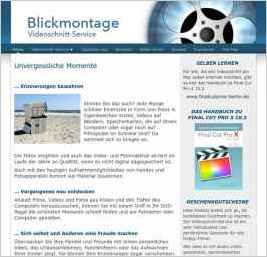 "It is my business website for editing videos in the private section. There are a few examples, which I published on Vimeo and some pictures, where I show colorgrading."