 Location: Madrid, Spain
What kind of websites were you planning to build?
Web to show my work as cinematographer
How did you hear about Sandvox?
looking on google for a substitute for iWeb
What made you decide to get Sandvox?
After testing, I realized it worked for what I was looking for.
Now that you have Sandvox, what do you like about it?
Nice designs. Quick work.
---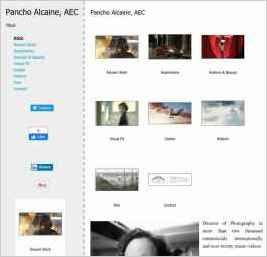 "Commercial and film reel from my work as a cinematographer and Director of Photography. Works include several commercials and project filmed and shot around the world for the last 20 years. Filming Showreel and reel divided on recent work, automotive, fashion and beauty, historic and film and..."
photography film commercial advertising international director