 Location: Norfolk, UK
What kind of websites were you planning to build?
I wanted a website as a showcase for my illustration work. I work mainly a children's book illustrator, so pictorial content is very important. Sandvox's clean sheets template provided the perfect platform for this.
How did you hear about Sandvox?
Searching on Google and Yahoo for a 'drop & drag' website builder. Sandvox was highly rated by most review sites.
What made you decide to get Sandvox?
I chose Sandvox because of it's ease of use and similarities with iWeb. After trying out a free version, I realised it was just what I needed. I did consider other simile applications, but they didn't appear to be as user friendly as Sandvox.
Now that you have Sandvox, what do you like about it?
I like the way Sandvox works. It's very intuitive to use.
If any problems arise, the helpline is great. It's also very easy to update and re-publish edited parts of the site.
What would be a good way to search for a program like Sandvox?
Best replacement website builder for existing iWeb users
---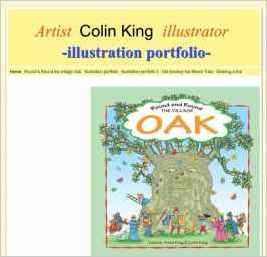 "I used the simple drag and drop method for my images, which included a couple of simple animations, created in Photoshop."