 Location: Orange City, Florida, USA
What kind of websites were you planning to build?
Five years ago, I built my medical office website using iWeb. With the upcoming demise of Mobileme and discontinuation of support for iWeb, I decided it was time to move on.
How did you hear about Sandvox?
When looking for an alternative to iWeb several links came up and I found one which mentioned Sandvox and several others.
What made you decide to get Sandvox?
After having used iWeb, I was able to immediately make sense of how Sandvox worked.
Now that you have Sandvox, what do you like about it?
At first I felt that I wouldn't be able to do one thing or another that I had done in iWeb. But as I stayed with it, I realized that by willing to do things a little differently I could make, for my purposes, just as good a website as with iWeb.
What would be a good way to search for a program like Sandvox?
---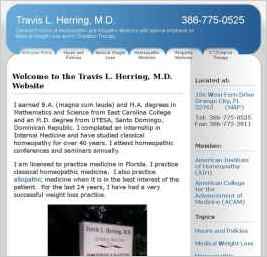 "I chose this design because it was clean and simple. Uncluttered but not stark. It just seemed right to me."