 Location: Durham, NC USA
What kind of websites were you planning to build?
I have a business in which I offer services as a wedding officiant, spiritual director, retreat leader, and consultant, and I wanted to create a website to promote my work.
How did you hear about Sandvox?
I googled the above and found a site comparing Mac software for building websites. I used to use iWeb, and then I moved to a CMS, but wanted something more affordable and easy to use.
What made you decide to get Sandvox?
I choose Sandvox because of its ease of use, integration with the Mac OS in terms of functionality and interface, and it's good reputation.
Now that you have Sandvox, what do you like about it?
I appreciate the ability to change features of my website (logo, sidebar, etc.) with little effort and then publish them instantly. Sandvox just works, and I want to spend my time engaging in my work, not just building a website.
What would be a good way to search for a program like Sandvox?
---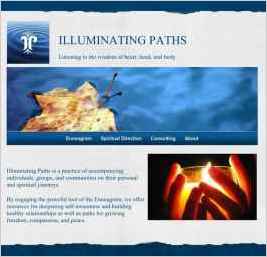 "I liked the creativity of the design I chose, which allowed me to indicate to my audience that the work I do is marked by creative energy."