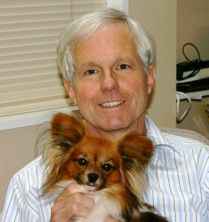 Location: Christchurch, New Zealand
What kind of websites were you planning to build?
I wanted a website to promote the South Island Papillon Club's events, their member breeders and the breed in general. They had a single page piggy backed on a larger site and I thought I could do a lot better. I wanted to show off pictures and videos of Papillons in action and provide a neatly structured and easily updatable website for the group.
How did you hear about Sandvox?
Surfed above with Google and found good reviews for Sandvox.
What made you decide to get Sandvox?
The video demo was very useful in "getting" the Sandvox way of doing things and seeing what I was going to have to navigate to make the website happen. I was deciding between iWeb already on my computer, ReapidWeaver and Sandvox. I decided against iWeb because it is no longer being developed and it has missing features I needed. I was really torn between RapidWeaver and Sandvox as I liked the forms creation much better and it seemed more flexible, however when I tried the demo version I found it required lots of plug ins to work and it all got too complicated. I tried the Sandvox demo once in October last year then again just last month. I liked the improvements and Sandvox met the minimum requirements and was very intuitive to use. I have had to resort to the help system less than half a dozen times which says a lot. I really liked that it looks use like native Mac software and uses the same philosophy of simplicity and elegant processes.
Now that you have Sandvox, what do you like about it?
I built my first Sandvox website in two weeks using almost all the features, lots of inter page links, external links, photo albums, sidebars, contact info and a Blog. Once I got the publishing data from my ISP, one button does it. That's great and it only uploads new material! A club member says can we have a page for such-and-such and I can add the page and publish the bones of it for them while they are on the phone! When they see the page they can email me the content which I just cut and paste and publish - shazamm.
What would be a good way to search for a program like Sandvox?
website design mac, mac web builder, mac website, website builder reviews mac
---