 Location: Berwyn, Pennsylvania, USA
What kind of websites were you planning to build?
I used Sandvox because I had designed my old website on a PC-based template program, and had switched to a Mac. I also liked that I could use my Sandvox-designed site with any web host, whereas my old program could only be used with its parent web host.
How did you hear about Sandvox?
I searched Google for a Mac website design program
What made you decide to get Sandvox?
I liked how simple it was to design my website. It only took an hour or so - I copied over the copy from my old website, and plugged it into one of Sandvox's templates. The new site looks a lot better than my old one. It was really easy to insert links into the copy.
What would be a good way to search for a program like Sandvox?
---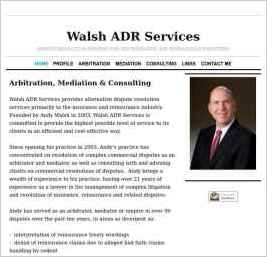 "My website is designed to promote my Alternative Dispute Resolution practice - arbitration and mediation of disputes among insurance companies, reinsurance companies, agents, brokers, third party administrators and insureds."