 What kind of websites were you planning to build?
I am planning to build a photography portfolio/blog combo with the Sandvox software.
How did you hear about Sandvox?
I was searching for iWeb alternatives when I saw the demo for Sandvox.
What made you decide to get Sandvox?
It's as simple to use as iWeb, and a lot more user friendly. It's also much easier to customize, with more options.
Now that you have Sandvox, what do you like about it?
Sandvox is much easier to customize and web-optimize than other programs such as iWeb. You also have the flexibility to input your own code and tags.
---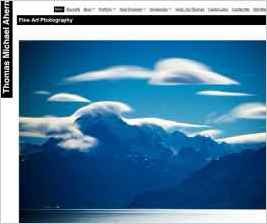 "As a photographer, I am always looking to refine my vision. The Sandvox B&W minimalist theme helps me carry that developed style from my photographs to how I showcase them and educate others. It's simple and refined, exactly what I need for directing my viewer's attention to the content on the..."