 Location: Tempe, Arizona, USA
What kind of websites were you planning to build?
I wanted to build a personal academic site to describe my research, projects, laboratories and teaching and give people access to my publications.
How did you hear about Sandvox?
I did a search on Google for website software for Mac and I found Sandvox. Then I searched for reviews of Sandvox.
What made you decide to get Sandvox?
I liked the fact that I could have a full month of playing with the software before I committed. When I started using it is was so user friendly and intuitive that I felt confident I could create a website and maintain it. As I was building a site with the free trial I would show it to friends who all found it really beautiful - and I loved the look and simplicity of it too. I did not need a consultant after this and I have no idea how to build HTML (or any desire to learn... :) )
Now that you have Sandvox, what do you like about it?
I like the look of it. I find it beautiful. I like the simplicity of building and maintaining a site. I like how user friendly my friends say the site is now that I have published it.
What would be a good way to search for a program like Sandvox?
website building software for Mac
---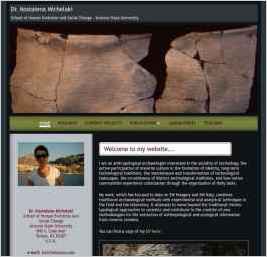 "I loved the colours on the design I chose, because they looked very earthy and archaeological, which matched exactly the content of my site. I also loved the simplicity of the look."