 Location: Elmhurst, Illinois, USA
What kind of websites were you planning to build?
I am a photographer and I use my website to promote my business. I am transitioning from MobileMe/iWeb to Sandvox/a2Hosting
How did you hear about Sandvox?
I read about Sandvox on a couple of different websites.
What made you decide to get Sandvox?
I had already tried two different programs (Freeway and Rapidweaver). I found those two programs cumbersome so I decided to give Sandvox a try. I am a photographer, not a website designer so I wanted great looking site that I can maintain, but without lots of time away from my primary business.
Now that you have Sandvox, what do you like about it?
Sandvox has allowed me to successfully build a new website that is up and running. It is relatively easy to use and with a little bit of work has some very powerful features (like Site Code Injection). I also use it in combination with JAlbum.
I also have installed Google Analytics and StatCounter into my site so I can see the traffic. This helps to understand the effects of my marketing efforts to bring business to my website
The online support is very good which makes it a bit easier to get things up and running.
---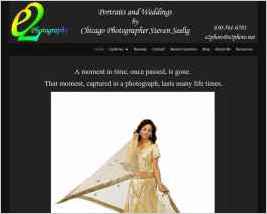 "Using a combination of Sandvox and JAlbums allowed me to embed video slideshows hosted on vimeo.com easily and generate simple slideshows with music reflective of the various aspects of my business."