 Location: Hanover, New Hampshire, USA
What kind of websites were you planning to build?
We've used many online calculator websites and we were sure we could do better. Every site can add and multiply numbers. But in science, engineering, and just about anything, those numbers have units, like feet, inches, meters, etc. We wanted to build a site that automatically handled both the numbers and the units.
How did you hear about Sandvox?
I've used it since version 1.0.
What made you decide to get Sandvox?
Sandvox is the easiest, all-in-one website authoring program. But what makes it better than the rest are the designs.
Now that you have Sandvox, what do you like about it?
A lot of website software makes it easy to create a site. But Sandvox makes it easy to maintain too.
What would be a good way to search for a program like Sandvox?
units converter, scientific calculator, excel add-in, convert coordinates
---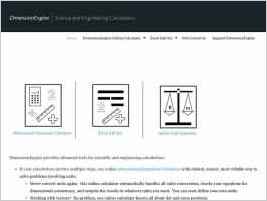 "We chose the Lithium design from BehindTheRabbit for its simple elegance. We didn't want any distracting images. Calculations should be clean and simple, just like the Lithium design."
science engineering converter calculator units add-in