 Location: San Francisco, CA, USA
What kind of websites were you planning to build?
I needed an easy way to showcase my artwork, and that was so easy I used it when I started my college counseling business. I needed a way to quickly update information on my sites, and Sandvox was great for this.
How did you hear about Sandvox?
I searched for Mac-based website software, and read good reviews about Sandvox.
What made you decide to get Sandvox?
I wanted to control the whole site building, from initial planning to sometimes daily changes. Sandvox made this easy for a non-computer geek.
Now that you have Sandvox, what do you like about it?
The support is good. I posted a problem I had to a help site and it was answered (on a weekend, mind you) in just a few hours! (Don't you people ever go outside?!)
What would be a good way to search for a program like Sandvox?
---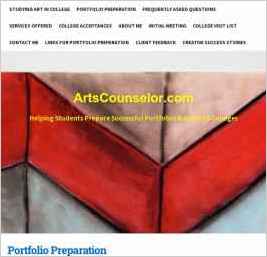 "My website has definitely helped me network locally. I try to set up links to it regularly to ensure good search engine placement."