 Location: Payerne, Switzerland
What kind of websites were you planning to build?
This website is made for the support of my photographic business and passion; it permits people to visit and see my pictures easily.
How did you hear about Sandvox?
I can't remind, using Sandvox since a long time, certainly on a specializes revue.
What made you decide to get Sandvox?
When it is stable version, Sandvox is really fast and easy to use, with a simple manipulation. I can have pictures of the size I choose.
Now that you have Sandvox, what do you like about it?
Fast and easy to use. For creating a new page, it can takes less than 2 minutes.
What would be a good way to search for a program like Sandvox?
---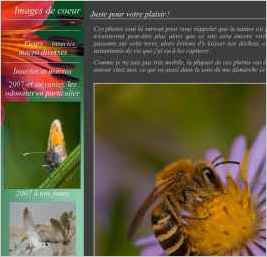 "The most interesting is to use the linked picture hosted on my website than the original Sandvox made picture which degrade a lot the image."