 Location: London, UK
What kind of websites were you planning to build?
I wanted the Heaven Mountain website to be easily manageable whilst providing the major link to my Taiji students, both existing and prospective.
How did you hear about Sandvox?
I heard about Sandvox through my searching on the net.
What made you decide to get Sandvox?
Wherever possible I looked at and trialed all the similar software and read numerous net reviews of any products that I thought might fit my requirements for ease of use and Mac compatibility. It seemed easier to understand and use, faster and more sensible than Rapidweaver or iWeb.
Now that you have Sandvox, what do you like about it?
Having come from Pagemill and GoLive I like the ease of use of Sandvox. I really don't want to spend my life learning software skills when I could be doing Taiji and Sandvox allows me to produce very cool results with a reasonably minimal amount of stress and new learning. Everyone who saw the old and the new sites went "wow" and it only took a few hours instead of a few days to make something both attractive and functional.
What would be a good way to search for a program like Sandvox?
---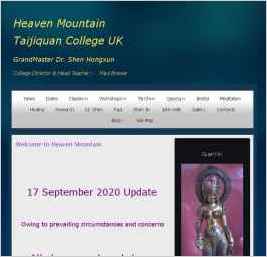 "Hello: I am Paul Brewer, the head teacher of the Heaven Mountain TaiJi College, based in Surrey in the United Kingdom. I have been a TaiJi / Tai Chi practitioner for over 25 years and a Mac computer enthusiasts for about the same length of time. The Heaven Mountain website, has always been built..."
meditation energy healing relaxation exercise taijiwuxigong