 Location: Munich, Bavaria, Germany
Language: German.
What kind of websites were you planning to build?
I wanted to build a website that shows my photographic work in a clean, but art supporting design. It is used to show my work to interested people. In the meantime there are some reviews of technical gear which have been visited by various photographers all around.
How did you hear about Sandvox?
I really can`t remember how I found Sandvox. But I know I tried some alternatives which didn't gave me the opportunity to assemble a website with the design I liked and this in a fast way.
What made you decide to get Sandvox?
I have choosen Sandvox because of its clean working environment and the included designs. I tried before I bought Sandvox.
Now that you have Sandvox, what do you like about it?
Sandvox offeres me a fast solution to build up a professional looking website during my short time slots I have between earning money and photographing. As you can see on my webpage I also used the possiility to tweak the design a little bit and made use of enclosing external pages. This is still one of the reasons I go on working with Sandvox.
---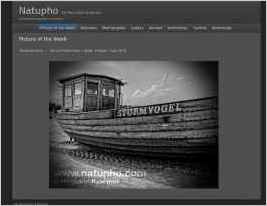 "The particular design gave me the possibility to enlargen it a bit and to support my photographic artwork with its reduced color scheme."