 Location: Salt Spring Island, BC, Canada
What kind of websites were you planning to build?
I wanted to build a web-site that allowed me to show my fine art photography, and to allow visitor to find the Gallery - Atelier. As well, it needed to be able to list the many photographic events that occur in the community.
How did you hear about Sandvox?
I had read several very good reviews about Sandvox in a couple of Mac news magazines. I don't remember the names, but I recall that the name "Sandvox" kept popping up. I decided I needed to try it.
What made you decide to get Sandvox?
I'm a very visually oriented person. When I looked at the designs that were available with Sandvox, I liked them immediately. They had a selection of the clean, minimal designs I was interested in.
Once I started using Sandvox I discovered how easy it was, even for this HTML-phobic user, to modify some of the designs to suit my particular colour schemes.
Now that you have Sandvox, what do you like about it?
I like the ability to make websites that can be simple as a one page notice to complex sites that can showcase the work of a dozen or more photographic artists. Once the website is published, I especially like the ability to make updates and upload those changes immediately.
Sandvox makes my life easier. I get to be photographer with a great looking website. Instead of spending my time wrestling with web design issues I get to take pictures.
What would be a good way to search for a program like Sandvox?
website building templates designs
---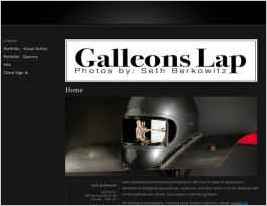 "I like the clean, mostly monochromatic look of the design, with just a hint of blue on the page links. It lets me use my photography to bring whatever colors I want to use."