 Location: Walnut Creek ,CA, USA
What kind of websites were you planning to build?
I needed a basic web site that I could maintain myself to inform my potential and current clients about how my consulting company worked. I had a basic one page site that was static and didn't have more than the basic business card information.
How did you hear about Sandvox?
Dan and I saw each other at Macworld and he told me what he had been working on since Watson.
Now that you have Sandvox, what do you like about it?
The Sandvox software doesn't assume that I can code C++ or that I even know what that is. I just want to produce a working web site without having to become an expert.
---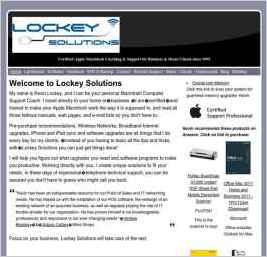 "I have been helping people with their Macs since 1995 and created some lasting relationships. My website helps you understand how I work for you to find the best solutions that fit your specific needs."