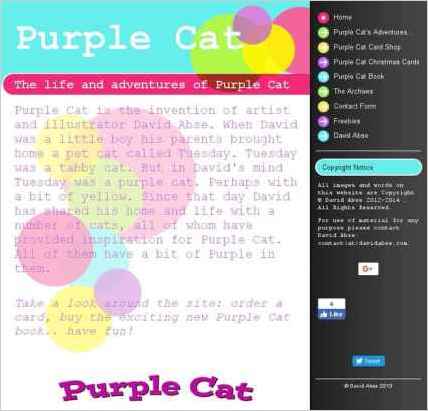 Sandvox was the choice for Jesse Abse to build his website. He chose the "Trippy Bubbles" design for the site. People may want to visit the site if they are looking for entertainment, cat based drawings cartoons.
Sandvox features used for this site:External Page, Photo Grid, Site Map, Contact Form, Other Objects, Raw HTML Object, Google Integration
---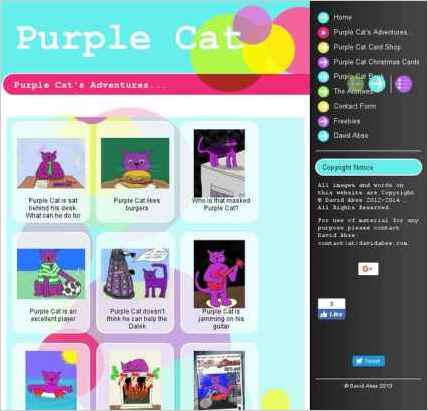 Describe your website.
The website shows the life and adventures of Purple Cat (© David Abse 2013) and related materials, info etc. On Purple Cat's website you can see drawings, cartoons, download free screen savers, free comics, and buttons, shirts, clothing, and merchandise. All marked Purple Cat. Fun for cat lovers everywhere.
Who is the target audience for your website?
Fun for cat lovers everywhere. Kids, adults - everyone!
What is the advantage of your website over others?
Purple Cat is the best Cat in the world. Obviously.
Tell us a story about this website.
The website was developed as a stepping stone to get wider recognition of Purple Cat. There is also a Purple Cat Facebook page.
Why did you use this Sandvox design?
Sandvox is instinctive to use, and its great range of choices and designs makes it flexible and meets my needs so well.
What techniques did you use to build this website?
I adjusted fonts in the existing design to better meet my needs and the tone of the site.
---
---
www.SandvoxSites.com/2575