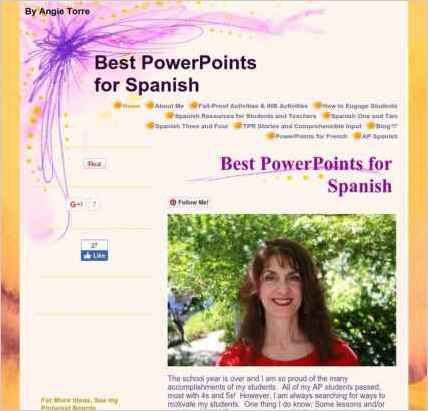 To build "Best PowerPoints for Spanish," Angie Sherbondy chose Sandvox. She chose the "Erratic" design for the site.
Best PowerPoints for Spanish
(Website is no longer listed here.)
Sandvox features used for this site:Blog, External Page, Photo Grid, YouTube, Other Objects, Raw HTML Object
Visit Best PowerPoints for Spanish »
---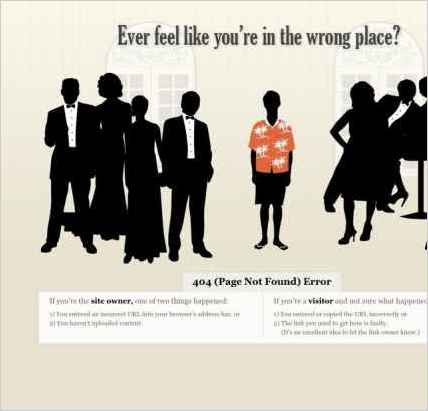 Describe your website.
My website provides resources for Spanish teachers that save hours of time and provide good lessons that engage students. Here are the resources I provide:
PowerPoints for Spanish One and Two
PowerPoints for Spanish Three/Four & AP
TPR Stories and Comprehensible Input
Activities for Spanish
My website is also a blog that tells people about the benefits of, and how to use Google Voice, Sock Puppets, Authentic Language, the Target Language. I also talk about student engagement.
Who is the target audience for your website?
Spanish and French teachers would benefit from my website.
What is the advantage of your website over others?
My PowerPoints are complete lessons, have captivating visuals, interact frequently with the students and have the answers clicked in. They are artistic and the grammar explanations are clear and easy to understand. They make teaching easy for the teacher.
I made the PowerPoints because I couldn't find quality PowerPoints for Spanish anywhere on the Internet. I have a four out of four rating attesting to the quality of my curriculum.
My TPR stories are unique as they reinforce certain vocabulary or grammar concepts.
My activities are fail-proof. They work for any student. After 27 years of teaching, only the best have made it into the repertoire.
Why did you use this Sandvox design?
I like the colors and the brightness. It is cheery. It also displays the titles more clearly than some of the other designs. The squiggly purple is really pretty. :)
What techniques did you use to build this website?
I put borders around photos in PowerPoint and pasted them in so they would match the color scheme of the website.
I cropped photos in Gimp and then pasted them in.
I linked to other pages in the website. Super cool!
---
---
www.SandvoxSites.com/2571