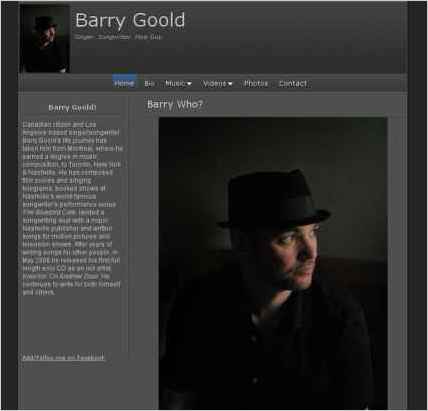 To build "Barry Goold," Barry Goold chose Sandvox. He chose the "Smooth Dark" design for the site.
Barry Goold
(Website is no longer listed here.)
Sandvox features used for this site:Photo Grid, Custom Collection Index, Contact Form, YouTube, Other Objects
---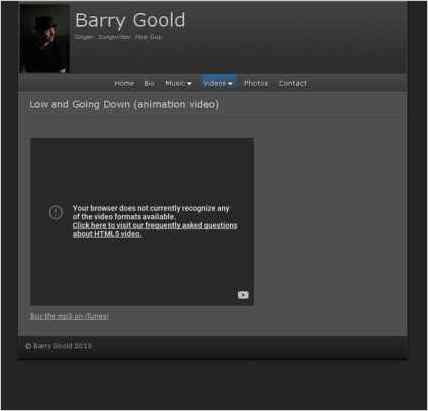 Describe your website.
I wanted people to know more about me and my music. There is a biography page, links to songs I've written, links to videos of me or songs I've written, and some pictures.
Who is the target audience for your website?
Anyone who loves good songwriting, middle aged gay men, people who know Nashville is more than just country music, Canadians who have left Canada, lovers of pop music in the classic 70's style of Elton John or Jackson Browne.
Tell us a story about this website.
I'd previously used another product to set up my site and was intimidated by making any changes so it stayed static for years. With Sandvox I was able to completely change the layout in under an hour, and have been able to add pages and make changes very easily. Hopefully this will make the site more interesting for people to come back to on a regular basis as well, which is the whole point of a site!!
Why did you use this Sandvox design?
I liked the classic look of the design I chose. It was consistent with some of the studio pictures used in my CD artwork so it was an obvious choice.
---
---
www.SandvoxSites.com/2643