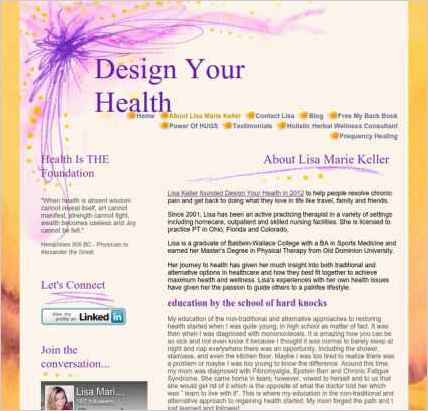 Lisa Marie Keller used Sandvox to build this website. She chose the "Erratic" design for the site. People may want to visit the site if they are looking for Health and Wellness Coaching to overcome Fatigue.
Sandvox features used for this site:Contact Form, Other Objects, Editing HTML of text, Raw HTML Object
---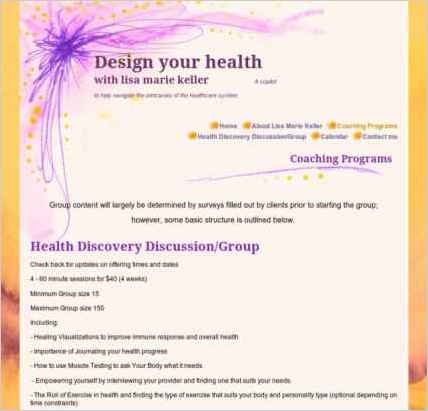 Describe your website.
In today's world of information overload, finding the right healthcare solutions is not easy. It is even more difficult when you are fighting illness. We all deserve to experience the joy true wellness has to offer.
Design Your Health helps you navigate through the challenging healthcare system to find the options that are right for you and put you on the path of health and wellness. It may take just one option, but in many cases it is a journey using many options. There are numerous answers out there, and not one of them fits every person.
It takes just the right balance of these options to maximize health benefits. Lisa Marie Keller can help you find that balance and restore health.
Who is the target audience for your website?
Anyone who has significant health challenges they are trying to overcome. Many of the individuals who seek me out have been caught in the healthcare system for quite some time and have been unable to find the answers they seek. I specialize in fatigue and exhaustion because that was my own personal health challenge that I had overcome
What is the advantage of your website over others?
I am offering a free coaching session so that individuals can get to know me and see if we are the right fit for each other.
Tell us a story about this website.
I do not have any specific story; however, I am so pleased with the program because it made that part of my life so much easier. I do get compliments on my site all the time on how beautiful it is.
Why did you use this Sandvox design?
I was looking for purple and this design just spoke to me. I had to have it :-)
---
---
www.SandvoxSites.com/2624