Sandvox was the choice for N. David Rvachew to build his website. He chose the "Blueball Apex Brown" design for the site. People may want to visit the site if they are looking for Fiction Readers.
Sandvox features used for this site:Blog, Contact Form, Amazon.com
---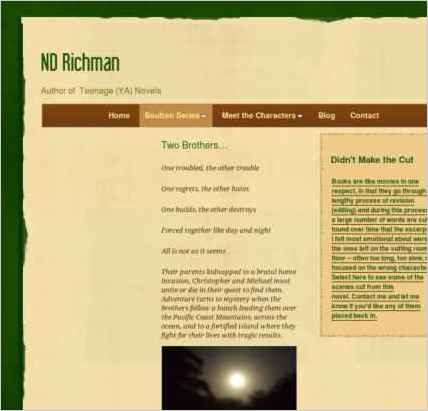 Describe your website.
This website is home base for my author name - ND Richman, and the series of Boulton Quest books. The first book of the series, "Brothers Bullies and Bad Guys" will be published within the month and I'll include a link directly to purchase the book. The website includes pages to describe each of the three books in the series and the characters. As well, the website will act as a link to my Facebook page.
Who is the target audience for your website?
The website targets fiction readers of all ages.
What is the advantage of your website over others?
The website includes descriptions of the book characters and excerpts cut from the book during the revision process - which is information I've rarely seen on book websites. Further to this, as the books are published the blog page will be filled with facts about each book, including hints on solving the mysteries portrayed.
Tell us a story about this website.
I've only had the website posted for two days but did send it to a critique group and received four very complimentary critiques about the website.
Why did you use this Sandvox design?
I wanted a design that was simple with straight lines, no pictures, not childish or too serious or too bright, and a slight artistic flair. I found all of this in "Outside the Lines" with a green border.
---
---
www.SandvoxSites.com/2629