Sandric Leong used Sandvox to build this website. He chose the "Aqua" design for the site. People may want to visit the site if they are looking for Harmful algae, Harmful algal blooms, fish kills.
Sandvox features used for this site:Blog, Photo Grid, Custom Collection Index, Site Map, Contact Form
---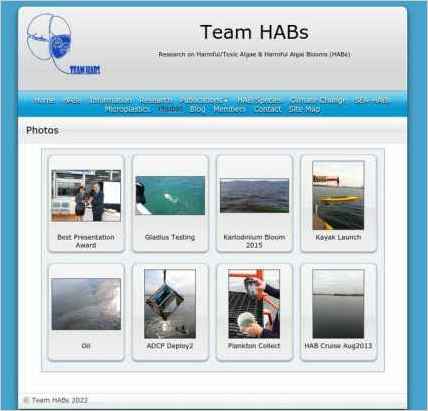 Describe your website.
We are a research team working on harmful/toxic bloom-forming algae.
Our research interest lies in understanding how environmental and/or climate changes increasingly caused by human activities are causing change and/or altering aquatic communities.
Who is the target audience for your website?
Anyone who is interested in harmful/toxic marine algae and harmful algal blooms.
What is the advantage of your website over others?
Our website is for providing information on environmental problems such as harmful/toxic algae.
Tell us a story about this website.
We have just published our website and it is still in progress of adding additional information. We hope to provide more information to the public and the scientific communities on harmful/toxic marine algae.
Why did you use this Sandvox design?
I like the design and its color looks related to marine environment.
What techniques did you use to build this website?
Added slide show on a page to add some additional flavour.
---
---
www.SandvoxSites.com/2780