Sandvox was the choice for Gillian S. Palmer to build her website. She chose the "Distinction Red" design for the site. People may want to visit the site if they are looking for paintings by New Zealand artist Gillian Palmer.
Sandvox features used for this site:Photo Grid, Custom Collection Index, Other Objects, Google Integration
Visit Gillian Palmer ARTIST /PAINTER IN NEW ZEALAND »
---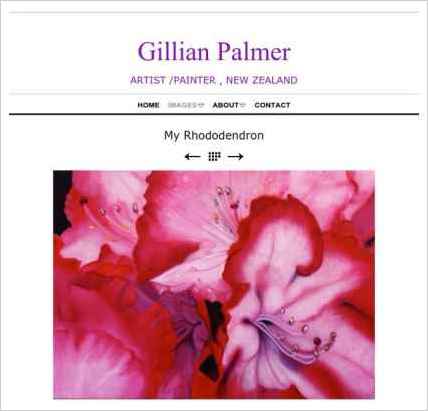 Describe your website.
Painting represents the journey of my life experiences and inspirations.
I want my paintings to uplift, inspire, bring joy, and possibly transport people to new levels of awareness whether it be visual, mental, or spiritual.
Under Images my paintings are separated into three groups.
Paintings which are still available .
Portrait paintings are in private collections.
Collections are in private collections.
Who is the target audience for your website?
People who appreciate the art of painting. All ages from New Zealand or anywhere in the world.
People who love colour.
What is the advantage of your website over others?
My paintings are unique to me. I create layers of imagery of flowers and the human figure which I invite the viewer to resonate with, thereby making the paintings personal to them.
I move paint around a canvas, using colours that interact with each other and with the whole.
Tell us a story about this website.
After publishing my site I received many compliments about the speed and richness of the site.
"Chrysanthemum is wonderful so vivid, feels like you can smell the flowers"
Why did you use this Sandvox design?
The design I chose in Sandvox is Distinction. After much consideration I decided that a clean look was needed to complement and not compete with the paintings. Also the menu type face is larger than Clean Sheets and I have the choice of changing the colour.
What techniques did you use to build this website?
I used text boxes, media place holders, photo grids and facebook button.
I am still learning object placement (object causes wrap) and inline moves with text, combining several images. The help menu is very comprehensive.
---
---
www.SandvoxSites.com/2674