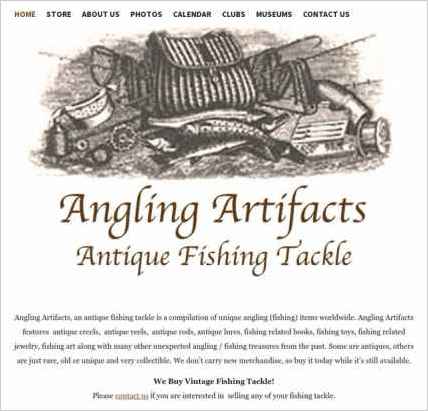 To build "Angling Artifacts," Yuriko Hirsch chose Sandvox. She chose the "Blueball Flexor Brown" design for the site. People may want to visit the site if they are looking for Antique Fishing Tackle.
Sandvox features used for this site:External Page, Site Map
---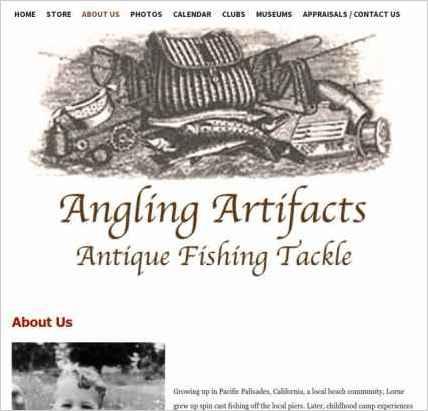 Describe your website.
Angling Artifacts, antique fishing tackle is a compilation of unique angling (fishing) objects—representing a collection of fishing tackle items from around the world. We feature antique creels, antique reels, antique rods, antique lures, fishing related books, fishing toys, fishing related jewelry, fishing art and fish ceramics along with many other unexpected
angling / fishing treasures from the past.
Who is the target audience for your website?
Target audience for our site would be those interested in learning about antique fishing tackle and wanting to purchase antique fishing tackle as there is a link to a an online store.
What is the advantage of your website over others?
Angling Artifacts has had an online presence since 2000 and has been at the forefront within the antique fishing community. Our site provides information on regional and national antique tackle trade shows, provides links to other collector clubs and collector museums. We also provide links to preservation and conservation sites related to fishing. Perhaps the single most important use is for someone who owns or if someone has inherited antique fishing tackle, we provide "free appraisals" and/or purchase that tackle that they want to sell.
Tell us a story about this website.
Our website enable us to connect with collectors from all over the world.
Why did you use this Sandvox design?
We selected this Sandvox template because it is simple, clean, yet robust and allows the site to transition into a separate shopping cart program that is similar in its design.
What techniques did you use to build this website?
We offer our customers the ability to purchase antique fishing tackle through a separate shopping cart program. Setting up the shopping cart to "mimic" the design of the Sandvox design template was easy.
---
---
www.SandvoxSites.com/2751