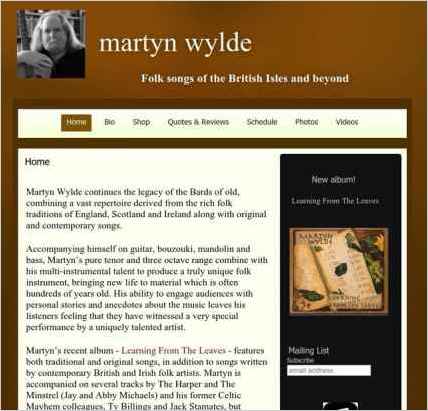 Mark Belenson used Sandvox to build this website. He chose the "Night Breeze" design for the site. People may want to visit the site if they are looking for Celtic folk music.
Sandvox features used for this site:Blog, Photo Grid, Site Map, Contact Form, YouTube
---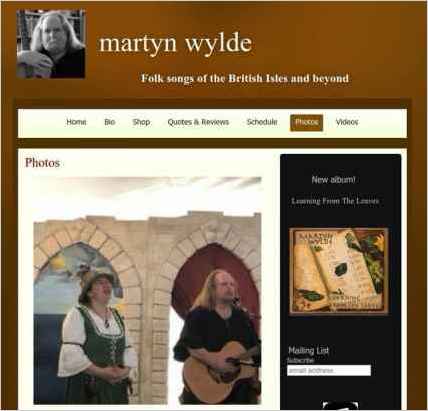 Describe your website.
"A true Bard."
"... Martyn Wylde took us to that special place that only some artists can dream to achieve (I feel like I am falling into the music he creates)."
Martyn Wylde has been a professional musician and actor for over 40 years.
In 2009 Martyn released Minstrel's Lament featuring traditional, contemporary and original material. It is a true solo CD, in that Martyn plays all the instruments (six and twelve-string guitars, fretted and fretless basses, octave mandolin/bouzouki, percussion) and sings multiple harmony and counterpoint vocals. His second solo album, tentatively titled Celtic Heart, is underway and will feature more originals along with some of the traditional songs which help mould his style.
With an extensive repertoire culled from the rich folk traditions of Ireland, England, Scotland and Wales along with his own original songs, Martyn Wylde continues the legacy of the Bards of old. 
Who is the target audience for your website?
Folk music fans, renaissance faire patrons, Celtic music fans
---
---
www.SandvoxSites.com/2741