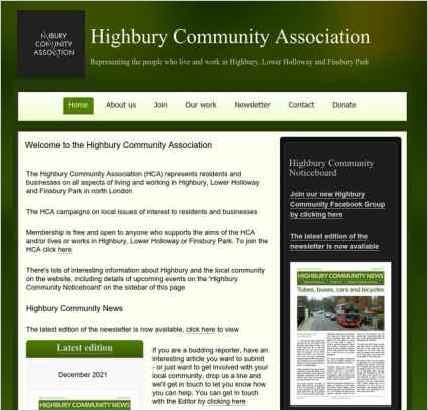 Will used Sandvox to build this website. He chose the "Aurora Palace Green" design for the site. People may want to visit the site if they are looking for Representing the people who live and or work in Highbury.
Sandvox features used for this site:External Page, Contact Form, Other Objects, Raw HTML Object, Code Injection
Visit Highbury Community Association »
---
Describe your website.
The website is designed to represent the work of the Highbury Community Association. People can join, show their support, download the newsletter, donate to the organisation or simply make contact. They can also access our Twitter and Facebook feeds as well as find out about upcoming local community events
Who is the target audience for your website?
The target audience is the membership of the organisation, anyone else who lives and/or works in the local area and the local media and politicians. It is meant to appeal to all ages and all sectors of the community
Tell us a story about this website.
Redesigning the website using Sandvox has allowed the organisation to reach out to new members - we now have over 350 followers on Twitter, which is down in no small part to the new website. The old website looked tired, with many broken links and did not properly represent the community. We now have a website that the community - and our local politicians and the media take notice of!
What techniques did you use to build this website?
I have learnt how to add objects such as a feed from the organisation's Twitter and Facebook accounts. I have also been able to link the site to PayPal so people can donate to the organisation online
---
---
www.SandvoxSites.com/2717