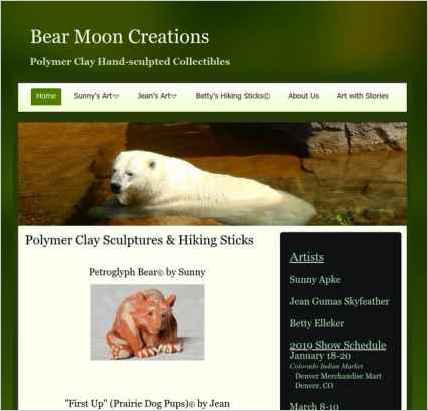 Jean Gumas Skyfeather used Sandvox to build this website. She chose the "Aurora Palace Green" design for the site. People may want to visit the site if they are looking for Polymer clay hand sculpted collectibles.
Sandvox features used for this site:Photo Grid, Other Objects
---
Describe your website.
This website shows photos of polymer clay sculptures and gives background information about our business. Our goal is to provide a place where our collectors may view our artistic styles and see what we have to offer. We welcome new buyers and special orders.
Who is the target audience for your website?
We sell to those who love and collect hand-sculpted folk art for themselves or as gifts. Interested buyers may see our work at fine art and craft shows, as posted on our site, and via our web page portfolios. We accept special orders.
What is the advantage of your website over others?
All of our pieces are hand-sculpted using multi-colored polymer clays, making them one-of-a-kind pieces. Many of our pieces also come with a brief story.
Tell us a story about this website.
We've been receiving "Wow" reviews with comments about how professional the site appears.
Why did you use this Sandvox design?
We chose Aurora Palace green because it provided a great background color for our banner and art photos. The Aurora Palace blue also would work and we may use it in the future. There are several other Sandvox designs which would have worked. Aurora Palace was our final choice.
What techniques did you use to build this website?
We used a personal photo as our banner, added plenty of photos in each of our art portfolios, created several slideshows within those portfolios, and added many links within the site. We also used a link to our business email address and to another external site.
---
---
www.SandvoxSites.com/2711