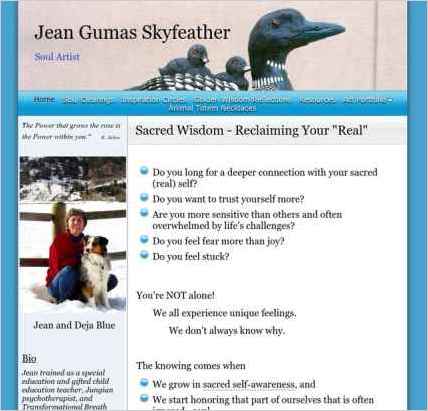 Sandvox was the choice for Jean Gumas Skyfeather to build her website. She chose the "Aqua" design for the site. People may want to visit the site if they are looking for Spiritual Intuitive.
Sandvox features used for this site:Photo Grid, Site Map, Other Objects
---
Describe your website.
My website highlights soul readings, inspiration circles, and my personal art portfolio. My goal is to invite potential clients to learn more about what I offer and to contact me.
Who is the target audience for your website?
I wish to reach those who are seeking life's deeper meaning and want to know themselves at a soul level. To work with me personally, they need to be located in the Boulder, Colorado area. I also work by phone with those who live in other parts of the US and around the world.
What is the advantage of your website over others?
My unique approach honors your intentions and personality. As a channel, I am able to access information about your past lives and guide you toward resolutions. As an artist, I can help you identify your totem animals and create a one-of-a-kind animal totem necklace just for you.
Tell us a story about this website.
I've been receiving great reviews on my newly published website and my updated older website. Viewers have been blown away by the professional looks of both sites.
Why did you use this Sandvox design?
I chose the Aqua design because the color made each page "pop". I also liked several of the other designs provided by Sandvox and did not find a need to search for a design beyond Sandvox. I loved that I could add a picture of one of my art pieces in a banner at the top of each page.
What techniques did you use to build this website?
I used a unique banner showing one of my sculptures, added photos and some clipart plus adding a slideshow to my art portfolio page. I'm not yet familiar with all the other options.
---
---
www.SandvoxSites.com/2710