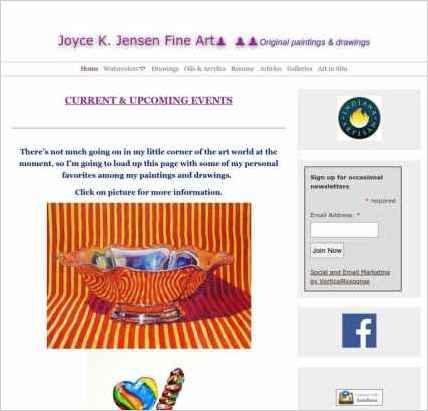 Sandvox was the choice for Joyce Jensen to build her website. She chose the "Clean Sheets" design for the site. People may want to visit the site if they are looking for detailed realism paintings by an award-winning artist.
Sandvox features used for this site:Blog, External Page, Photo Grid, Raw HTML Object
Visit Joyce K. Jensen Original Fine Art »
--- Describe your website.
My website displays many of my original paintings in watercolor, oil and acrylic, but especially watercolor. For the sake of convenience I've grouped them as still life, figurative, landscape, toy and candy paintings, holiday-themed paintings and wildlife. My work is sometimes realistic, and often in the very vibrant, modern genre of hyperrealism. I've won many awards for my paintings; my goal is to introduce my work to an even larger audience. To this end, I've started an ArtBlog, in which I will discuss and discribe works in progress.
Who is the target audience for your website?
My target audience is anyone, anywhere, who loves art, especially representational art in realistic and hyperrealist traditions. I often paint vintage tin toys, and occasionally vintage maps, which attract collectors.
What is the advantage of your website over others?
I don't consider other artists to be competitors, but rather compatriots. We all strive to enrich the world in some small way. It's a privelege to have my paintings hanging on walls next to that of other artists, not instead of other artists.
Why did you use this Sandvox design?
I chose this design because it's very simple, direct, clean and modern. My paintings are high key, very vivid, and ofter quite complex. I want to showcase my art, not show off a fancy site design. I was delighted with the choices available, was able to quickly narrow it down to three, then chose the simplest.
What techniques did you use to build this website?
I went for simple and direct rather than clever, but i couldn't resist a slide show, although I did have to find, on a bulletin board, I think, how to add and subtract images.
---
---
www.SandvoxSites.com/2698