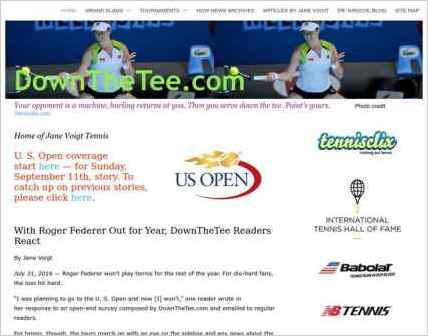 To build "DownTheTee.com" for Jane Voigt Tennis, Jane Voigt chose Sandvox. She chose the "Hydrogen" design for the site. People may want to visit the site if they are looking for Professional tennis commentary on pro-level tennis.
Sandvox features used for this site:Blog, Contact Form, RSS Feed Object, Raw HTML Object, Code Injection
---
Describe your website.
Who is the target audience for your website?
We target lovers of the game, whether beginning tennis players or sage professionals, along with any one else who would like to become familiar with tennis.
What is the advantage of your website over others?
Readers like the writing at DownTheTee.com. The coverage is unique in that it makes readers feel as if they are there ... at the tournament.
Tell us a story about this website.
Tennisclix.com is DownTheTee's partner in tennis presentations. Its photographs are used throughout the site and it remains our favorite supplier of shots.
Why did you use this Sandvox design?
I chose Hydrogen because of its simplicity.
---
---
www.SandvoxSites.com/2691