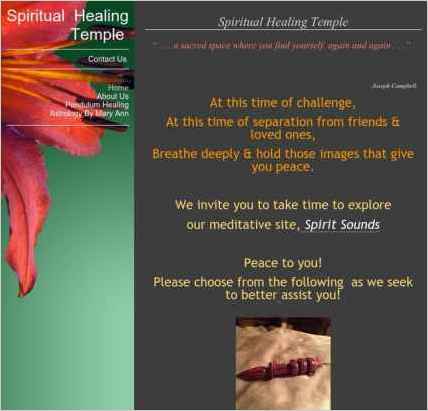 To build "Spiritual Healing Temple," Mary A. Tourjee chose Sandvox. She chose the "Grey Leaf" design for the site. People may want to visit the site if they are looking for Meditation, Reiki Certification Class, Psychic Readings, Shama.
Sandvox features used for this site:External Page, Other Objects, Editing HTML of text
Visit Spiritual Healing Temple »
---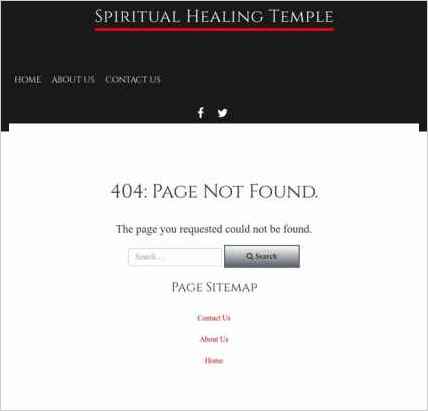 Describe your website.
The Spiritual Healing Temple website provides a calendar of upcoming events. This includes our weekly Women's Guided Meditation, Shamanic Journey Meditation, Psychic Fair, Reiki Certification Classes, and the popular Let's Talk About It series. Additionally, we offer information about our interfaith ministers, Rev. Nancy Higgins & Rev. Mary Ann Tourjee, on the About Us page. Our website includes a page which provides guidance for our Clients for the Forgive & Release process. There are also popular links to other sites such as our blog, Spirit Sounds. Our goal is to provide general information about the services with offer, and information to assist others in understanding our services.
Who is the target audience for your website?
Our general audience is anyone who is seeking a spiritual path that embraces all faith traditions, training in Reiki and other healing arts, metaphysical classes; or, those who are seeking private sessions which may include shamanic healing, magnetic healing, numerology readings, oracle card readings, and Reiki.
Why did you use this Sandvox design?
We were seeking a design that was filled with light and strong energy. The dolphin design was perfect because on a metaphysical level, dolphins carry wonderful energy. We also liked the energy of the ocean in the graphic and the blue and white tones.
We wanted those viewing our website to leave the site feeling refreshed and excited about all that we offer.
---
---
www.SandvoxSites.com/2658