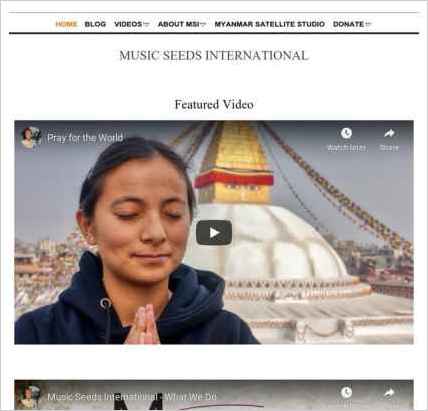 To build "Music Seeds International helping kids grow with music" for Music Seeds International, Ross Green chose Sandvox. He chose the "Distinction" design for the site. People may want to visit the site if they are looking for Music programs for kids.
Sandvox features used for this site:Blog, Photo Grid, Site Map, Contact Form, YouTube, QuickTime Audio/Video, RSS Feed Object, Editing HTML of text, Code Injection, Google Integration
Visit Music Seeds International helping kids grow with music »
---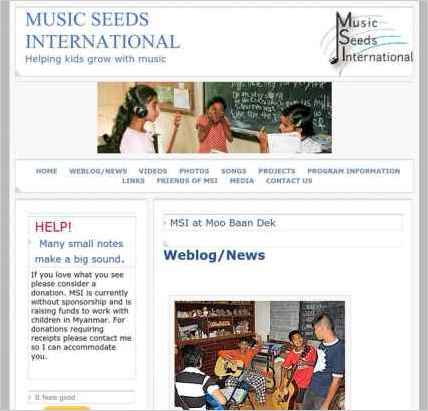 Describe your website.
The sites supplies the viewer with program information, videos/photos/songs, the different projects we have run and a weblog/news page to keep up with what's happening. By hearing and seeing the kids songs and reading about the program one gets an idea of what they can do when given the opportunity.
Who is the target audience for your website?
The kids that have been involved or may be in the future, possible donors and philanthropists, schools and NGO's that would like to host the program and of course the general public. Oh yes and my Mom. That takes the age group from 7 to 70. Sorry Mom.
What is the advantage of your website over others?
People from all parts of the world are able to use the site with ease due to it's simplicity and lack of clutter.
Tell us a story about this website.
This site was created in Nepal where there are power outages of 16 to 18 hours a day. This site was made by candle light and laptop battery power on nights when there was no power available. In the villages and refugee camps I have been, the children can now go online and see their songs and show people what they have made. Most of these children do not have Ipods, DVD player or portable music players. Some are from Himalayan villages where there is no electricity or schools and they come to Kathmandu and attend boarding schools that have computer labs. For them the joy and sense of accomplishment they feel when they open the site and see/hear their creations is one that raises the conscious level of joy in themselves and throughout the world. Thanks for helping make that happen Sandvox.
Why did you use this Sandvox design?
Simple, easy to read and the photo fit nicely into the top of the homepage.
What techniques did you use to build this website?
The ease of which a paypal button could be added was fantastic. Now people who are touched by the music can touch us with a few small notes of their own should they wish.
---
---
www.SandvoxSites.com/162