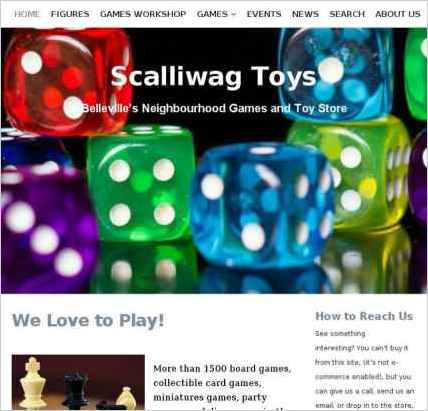 Sandvox was the choice for Karin Belanger to build her website. She chose the "Blueball Flexor Gray" design for the site. People may want to visit the site if they are looking for Educational toys and games for children.
Sandvox features used for this site:Photo Grid, Custom Collection Index, Site Map, Contact Form, RSS Feed Object, Other Objects, Editing HTML of text, Raw HTML Object, Code Injection, Google Integration
--- Describe your website.
Our website serves as a round-the-clock advertisement for our independent toy store. Here the customer can find out what's new, as we talk about some of our favorite games and toys, list some brands carried in the store, explain how and why they are great, and provide further information and links.
Who is the target audience for your website?
Our target audience is composed of well-educated people who are interested in buying high-quality and well-designed educational toys and games for children and adults.
What is the advantage of your website over others?
We are adding information on each item -- a little history, or an outline of the educational impact or advantages to be gained -- so that, as the customer browses the site, it is as if he or she is here in the store and is able to ask questions about that item or this one.
Tell us a story about this website.
I have had many compliments on the site since I redesigned it using Sandvox. Most people seem to assume that I have done all the programming myself, despite my using the Sandvox badge on every major page! (Ah, well)
Why did you use this Sandvox design?
I have tried three or four different designs over the years, and while all of them were good, I thought that the current design was strikingly good-looking and readable. It has strong colour-blocks and a nice linear design, which I thought was a good foil for the somewhat chaotic nature of the merchandise we showcase within the framework. I did change the font to Arial, 14 point, as I thought that would be more universally readable than the default font (Geneva, I think).
What techniques did you use to build this website?
I'm learning all the time. I've just added a Google search function and a contact form (in their own little Raw HTML Pagelets) and I'll soon be adding Shopping Cart functionality courtesy of PayPal. It's been trial and error, since I am by no means an expert, but all in all building the site has been an enjoyable and rewarding experience.
---
---
www.SandvoxSites.com/937