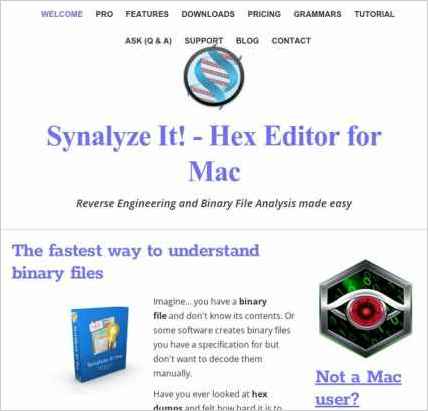 To build "Synalyze It!" for Synalysis, Andreas Pehnack chose Sandvox. He chose the "Blueball Reactive Purple" design for the site. People may want to visit the site if they are looking for a hex viewer/editor Mac OS X automatic file analysis.
Sandvox features used for this site:Site Map, Contact Form, Other Objects, Editing HTML of text, Google Integration
---
Describe your website.
I've been working on this new tool - Synalyze It! - now for about a year and now want to give an introduction as well as provide download links and a contact sheet.
Who is the target audience for your website?
I think the page and my tool are mainly for developers or other users wanting to analyze binary files.
What is the advantage of your website over others?
The website tells all about Synalyze It! and what it is able to accomplish. There's (as far as I know) no other tool that decodes binary files of various formats completely automatically and lets users create "grammars" interactively.
Why did you use this Sandvox design?
The "Aqua" design is both simple and clean, but also beautiful. It represents perfectly the simplicity of my application design.
---
---
www.SandvoxSites.com/930